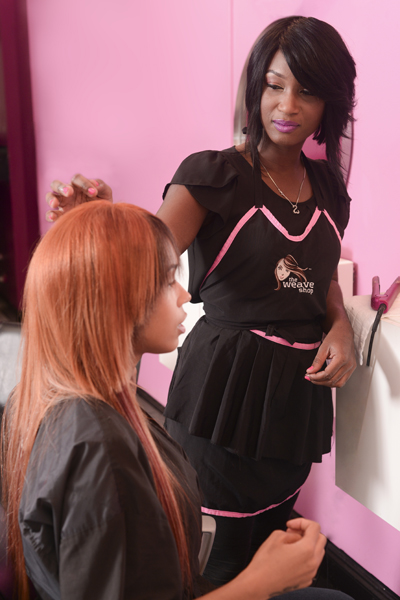 The Weave Shop aims to please all of our clients. Therefore, in any event that you are unsatisfied with the services provided, please inform stylist or check out personnel before leaving. Due to the nature of our business we will try to work with you and gladly resolve any problems within reasonable time. Sorry there are no cash refunds on our services or products. Prices are subject to change.
The Weave Shop works with an express technique. This means that we offer a quick service for affordable prices. In order to offer you these prices, we are working with a double tracking technique instead of single tracking. You will still have the same result! If you insist on single tracking, we will charge extra. The stylist will let you know what the extra charge is. There is an extra charge for using one pack of hair, using more than two packs of hair, single tracking, splitting tracks and re-using hair. The stylist will inform you of any extra charges.
You must maintain your hair in order to get the longest wear out of it. The Weave Retouch service is available at our full – service locations and is recommended every two to three weeks to properly care for you natural hair and weave. Proper maintenance will increase the life of your weave but should be removed after 3 months.
If you are not purchasing hair from The Weave Shop, you must bring two packs of 100% human hair and you must arrive with your hair washed; free of dirt and oil and blow dried. Under the stylist's discretion, we might advise you to have your hair shampooed at our salon for an extra charge, if it does not meet our standards.
The Weave Shop is not responsible for sensitive scalp, tenderness, abrasions or sores due to braids, weaving process or chemical services. Tightness, discomfort, burning sensation or severe pain is uncommon and could result in bald spots and hair loss and you must return to The Weave Shop immediately for removal.
We are not responsible for hair loss due to a weave or quick weave taken out and removed outside of The Weave Shop. We recommend that you have this service done professionally at our shop.
Clients with health issues should not be left without supervision. You need to notify our staff of any medical conditions that can affect your service.
On walk-in days you are allowed to sign in and leave our shop. You will need to return by the time your name is called, otherwise you will lose your spot and you will need to sign in again.
You will need to leave a deposit of $20 when you are braided and you want to leave the shop.
We accept requests for a particular stylist on appointment days; we cannot guarentee that you will have that stylist due to schedule changes. If this happens we will try to inform you if possible. Unfortunately, we cannot accept requests for a stylist during walk-in days.
The Weave Shop offers an "Express Chair". This is a system made available on extremely busy days to clients with a relatively quick service, such as lashes, eyebrows, cut, style, wash. Please inform our receptionist of the service you are requesting to see if you qualify.
Due to heavy customer volume, we ask that our lobby be reserved for those waiting for a service. If you are not being serviced you should wait in the lobby, it is prohibited to wait in the styling chairs.
No children or men allowed unless being serviced.
If you are under the age of 18, you must be accompanied with a parent or legal guardian to approve your service.
The Weave Shop does not accept personal checks.
For security reasons, we have our last customers prepay for their service.
The Weave Shop is not responsible for lost or stolen items or items left in the shop.
Customers who are not willing to sign and accept our Store Policy will not be serviced. The Weave Shop has the right not to serve you.
Inappropriate language or behavior is prohibited.
No pets allowed.